Standardkessel Baumgarte implements state-of-the-art plant technology for the efficient thermal utilisation of energy sources such as turbine exhaust gases. Our broad process know-how and many years of experience are the basis for high-quality solutions in firing technology, boiler technology and flue gas cleaning for combined cycle plants with integrated waste heat boilers.
Rated Thermal Input up to 550 MWth
Industrial firing systems as duct burners in the gas turbine flue gas duct, as duct burner in the combustion chamber of the boiler plant or as conventional swirl burners with external flue gas supply - installed in the floor or in the surrounding walls of the water-cooled combustion chamber of the boiler plant.
Steam output up to 600 t/h - Steam parameters up to 570 °C, 170 bar.
Steam generator in natural circulation design in horizontal or vertical construction. Designed as pure waste heat boiler or equipped with auxiliary firing also for fresh air operation and "flying change" between fresh air mode and GT mode.
Waste heat boilers as single-pressure or multi-pressure systems with different pressure stages including intermediate superheating. Multi-stage superheated steam temperature controlled by means of injection coolers between the respective superheater heating surfaces. Downstream heat exchangers for process heat or district heat supply.
Exhaust Gas Cleaning / SCR
The flue gases are denitrified either by means of an SNCR process (Selective Non Catalytic Reduction) or an SCR process (Selective Catalytic Reduction). To reduce the CO components in the flue gas, a CO catalytic converter can also be used.
Do you have questions or would you like to realise a project in the area of combined cycle / heat recovery? Please get in touch with us. We will be happy to help you.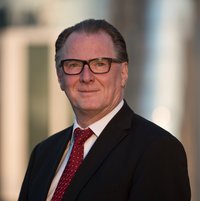 Detlef Simon
Head of Sales Power Plants
Tel. Nr.: 0208 20768 111
E-Mail: Detlef.Simon@SB-Group.com