Standardkessel Baumgarte implements state-of-the-art plant technology for the efficient thermal utilisation of energy sources such as sewage sludge. Our broad process know-how and many years of experience are the basis for high-quality solutions in firing technology, boiler technology and flue gas cleaning for sewage sludge plants.
Rated thermal input: 5-40 MW
Sewage sludge throughput: 1,600 kg/h to 16,500 kg/h
Stationary fluidised bed equipped with a spreader stoker firing system. The fluidised bed material is heated by a start-up burner. The required combustion air is divided into fluidised air and secondary air. The enclosure walls of the adiabatic combustion chamber consist of sheet steel and an internal brick lining.
Steam output up to: 50 t/h
Steam temperature up to: 450 °C
Steam pressure up to: 65 bar
Natural circulation boiler with several vertical flue gas passes. Depending on the requirements, a radiation section is connected upstream of the convection heating surfaces. The convection section accommodates the heating surface bundles of superheater, evaporator and economiser. Depending on the fuel requirements, the bundle heating surfaces can be cleaned during operation with appropriate heating surface cleaning systems. The superheated steam temperature is controlled by means of injection coolers between the superheater stages.
Exhaust gas cleaning
Electrostatic precipitator or fabric filter for pre dust removal. Depending on the emission regulations, a second cleaning step is foreseen, where the flue gas is conditioned with adsorbents. Calcium hydroxide Ca(OH)2 , calcium oxide CaO or sodium bicarbonate NaHCO3 are introduced into the flue gas as additives for adsorption of the acidic gas components. Alternatively, wet processes can also be used. The flue gases are optionally denitrified by means of an SNCR process (Selective Non Catalytic Reduction) or an SCR process (Selective Catalytic Reduction).
"The interaction of our years of experience and expertise as an EPC provider and Raschka's decades of experience with stationary fluidised bed combustion systems, complement each other to form an ideal partner for the realisation of your plant."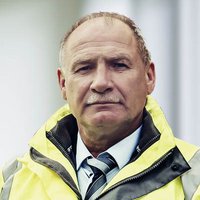 Achim Peter
Head of Sludge Treatment