THE TASK
On the area of an existing district heating plant, owned by Stadtwerke Elsterwerda, a new biomass plant should be installed. The new biomass power plant should replace the old district heating plant and additionally produce electrical power for the public grid.
Biomass is used as fuel, according to the definition of the German
"Biomass Legislation".
The order was placed to Standardkessel Baumgarte in November 2001.
THE SOLUTION
The plant is equipped with the following procedural units. The fuel is delivered by trucks. Beginning with the receiving station the fuel is conveyed into the storage silos. From there the fuel arrives in the boiler area via a conveying system.
The thermal part consists of grate firing system, steam generator and flue gas cleaning.
The electrical energy being generated in the turbine/generator is fed into the public grid and the process steam into the steam net of the heating power station.
The back up for the district heating system is done by an auxiliary boiler.
For more information, please see our reference sheet.
"Thanks to our broad product portfolio in the field of biomass firing systems, we can always offer our customers an optimal solution"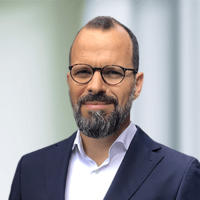 Sebastian Zimmer
Head of Proposals PP
Technical Data
Fuel
Waste Wood (A1-A2), Lightoil, Natural Gas
Low Heating Value
Minimal10.0 MJ/kg
Nominal16.0 MJ/kg
Maximal13.4 MJ/kg
Fuel Flow
Nominal12.2 t/h
Rated Thermal Input
44 MW
Electrical Output ST
12 MW
Feed Water Temperasture
105 °C
Flue Gas Flow
Nominal102,000 m³/h i.N.
Flue Gas Temperature Exit
180 °C
Operating Permit
17. BImSchV
Boiler Type
Natural Circulation
Discover more references from the biomass sector. From partial components to complex complete plants and operation & maintenance solutions.
More References
Piping inside boiler house