THE TASK
EGGER Panneaux de decors is planning a new biomass-fired cogeneration plant at the Rambervillers location in France. The steam generator for the new power plant is being constructed by Standardkessel Baumgarte. In future, the cogeneration plant will produce both saturated steam for heating thermal oil and superheated steam for the steam turbine to generate electricity and process steam.
THE SOLUTION
The new steam generator produces both saturated steam for heating thermal oil and superheated steam by means of a steam turbine generator. The exhaust steam from the turbine is used as process heat.
Various types of wood waste from production as well as a percentage of fresh wood required by law are used as fuels. The steam generator is operated with a total of three different firing systems: moving grate firing system, direct firing system and combined gas/dust burners. In this way, for the diverse types of production waste the respective optimum firing system is used and extremely low emission values can be achieved.
For more information, please see our reference sheet.
"Thanks to our broad product portfolio in the field of biomass firing systems, we can always offer our customers an optimal solution"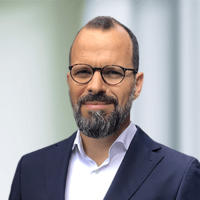 Sebastian Zimmer
Head of Proposals PP
Technical Data
Fuel
Waste Wood A1-A4, Virgin Wood, Wood Dust, Natural Gas
Low Heating Value (Grate)
Minimal7.5 MJ/kg
Nominal9.4 MJ/kg
Maximal14.9 MJ/kg
Low Heating Value Injection Firing
Minimal12.5 MJ/kg
Nominal14.9 MJ/kg
Maximal16.5 MJ/kg
Heating Value Dust Burner
17.1 MJ/kg
Fuel Flow
Nominal161,184 t/a
Rated Thermal Input
55 MW
Steam Pressure
80 bar (ü)
Feed Water Temperature
108 °C
Flue Gas Flow
Nominal94,752 m³/h i.N.
Flue Gas Temperature Exit
136 °C
Discover more references from the biomass sector, from partial components to complex complete plants and operation & maintenance solutions.
More References