THE TASK
To safeguard the steam network at DOW Benelux BV's production location in Terneuzen, it was necessary to construct a process steam boiler plant. This new boiler plant was to be integrated into the existing power plant structure in order to increase the availability of the process steam. For pressure relief/protection upon failure of the existing boiler plants, the pressure tolerance to be adhered to requires maximum load change rates. Standardkessel Baumgarte is constructing the process steam boiler plant as the general contractor for E.ON Power Plants Belgium bv, a subsidiary of E.ON Energy Projects GmbH.
THE SOLUTION
Execution of the process steam boiler as a 2-pass boiler with front firing (6 burners in n-1 design) and downstream horizontal economizer pass that has a space reserve for later catalyst retrofitting. Design of the boiler plant and the necessary components was carried out with reference to the extreme load ramps and pressure tolerances. For this, extensive dynamic calculations were necessary to be able to extensively reconstruct the boiler characteristics
For more information, please see our reference sheet.
"Thanks to our broad product portfolio in the field of biomass firing systems, we can always offer our customers an optimal solution"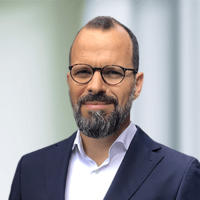 Sebastian Zimmer
Head of Proposals PP
Technical Data
Low Heating Value
Minimal7.0 MJ/kg
Nominal9.0 MJ/kg
Maximal12.0 MJ/kg
Fuel Throughput
Nominal app.150,000 t/a
Rated Thermal Input
46 MW
Feed Water Temperature
140 °C
Flue Gas Flow
Nominal82,000 m³/h i.N.
Flue Gas Temperature Exit
126 °C
Discover more references from the biomass sector. From partial components to complex complete plants and operation & maintenance solutions.
More References