THE TASK
The E-Wood Energiecentrale NV, a joint venture between Indaver and SUEZ, is building a biomass power plant at the Doel site near the Antwerp container port. As general contractor, Standardkessel Baumgarte is responsible for the supply, construction and commissioning of the entire power plant.
The E-Wood biomass power plant will process approx. 150,000 tonnes of waste wood per year and has an electrical output of 20 MWel. The additionally produced high-pressure steam will be fed into the ECLUSE plant steam network in the Waasland port area.
THE SOLUTION
Taking into account the emission specifications, Standardkessel Baumgarte developed a thermally and structurally adapted concept during the project phase. The steam generator is designed as a suspended water tube boiler and generates live steam at high pressure and high temperature. A stationary fluidised bed is used as firing system, which has decisive advantages with regard to the emissions to be complied with. The homogeneous combustion conditions of fluidized bed systems allow an optimal adjustment of the combustion process. A good mixing of oxygen and flue gas through an optimized nozzle geometry and air control are an integral part of the developed concept. This leads, among other advantages, to very low flue gas emissions.
For more information, please see our reference sheet.
"Thanks to our broad product portfolio in the field of biomass firing systems, we can always offer our customers an optimal solution"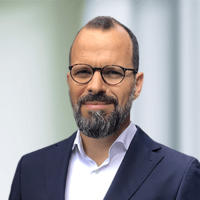 Sebastian Zimmer
Head of Proposals PP
Technical Data
Fuel
Waste Wood A3 – A4, Various Biomass
Low Heating Value
Minimal9.5 MJ/kg
Nominal13.5 MJ/kg
Maximal16.0 MJ/kg
Fuel Throughput
Nominal150,000 t/a
Rated Thermal Input
71.3 MW
Feed Water Temperature
130 °C
Flue Gas Flow
Nominal145,000 m³/h i.N.
Flue Gas Temperature Exit
130 °C
Discover more references from the biomass sector. From partial components to complex complete plants and operation & maintenance solutions.
More References
Construction-Team - Assembly of Heavy Parts 2021
Assembly of Heavy Parts 2021