THE TASK
The heat recovery steam generator (HRSG) is fitted into an existing boiler house in which a coal-fired boiler was previously installed. Then, together with the existing No. 1 waste heat boiler, a common steam range will be used which feeds to a new steam turbine having a reheating system. The turbine is intended to be operated in efficient variable pressure operation, so the boiler and the steam lines will be designed in such a way that, in the event of the failure of No. 1 waste heat boiler, the new boiler can produce its full capacity even at half the pressure. For the most flexible use possible, in particular with widely varying load requirements, the boiler is designed for fast start-up. Due to the long delivery time of the steam turbine, for economic reasons it is planned to start bypass operation already during the erection phase.
THE SOLUTION
In order to meet these requirements, Standardkessel Baumgarte is supplying a vertically arranged natural circulation boiler with an additional condensate heat exchanger which also feeds the district heat supply system. Besides the HP and the MP parts, the boiler is also provided with a reheater to optimize efficiency.
The steam generator is constructed as a suspended boiler and designed in such a way that the existing steel supporting structure of the old coal-fired boiler can continue to be used.
For the generation of peak current with waste heat operation, the plant is equipped with a flue gas bypass for 100 % flue gas flow. The waste gases from No. 2 waste heat boiler and/or bypass flow into a joint stack.
For more information, please see our reference sheet.
"In order to meet the demands of a volatile energy market, we have made it our mission to realise our plants with maximum efficiency and high availability."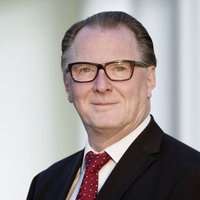 Detlef Simon
Head of Sales and Marketing
Technical Data
Energy Source
GT Exhaust Gas
GT Exhaust Gas Flow
215 kg/s
GT Exhaust Gas Temperature
590 °C
Electrical Output GT
77 MW
Steam Capacity
HP93 t/h
RH104.6 t/h
MP12.8 t/h
LP11 t/h
Steam Temperature
HP540 °C
RH544 °C
MP351 °C
LP240 °C
Steam Pressure
HP98.1 bar
RH29 bar
MP31 bar
LP5,2 bar
Feed Water Temperature
152 °C
Flue Gas Temperature HRSG Exit
80 °C
Boiler Design
Natural Circulation
Discover more references from the area of combined cycle power plants, from partial components to complex complete plants and operation & maintenance solutions.
More References
Stack inside Boiler House