The Task
The waste incinerator technology developed by Standardkessel Baumgarte was applied not just when the new waste incineration plant Frankfurt Nordweststadt was built in 1964, but also when it was partly renewed in 1983. Already during the offer phase of the second part renewal, which was commissioned in 2004, the general contractor Lurgi Lentjes AG involved us intensively. The task was to develop a waste incineration plant designed for demanding steam parameters in consideration of the latest technologies. In addition, the very restricted space conditions had to be taken into consideration when developing the boiler concept and the increased performance.
The Solution
Development of a boiler concept designed as a two-pass system with furnace area followed by a radiation area in vertical construction and a downstream horizontal pass with the installation of convective heating surfaces. Through this concept an increased plant performance by around 35 % could be realised by maintaining the existing space conditions. So as to protect the superheaters from corrosion in the presence of main steam temperatures normally unusual in waste incineration plants, the heating surface tubes were cladded with the high-grade Inconel material. The plant was renewed in two construction stage, i. e. two lines were revamped in one stage with the other two in full operation.
For more information, please see our reference sheet.
"We deliver an innovative and specially adapted technology for a sustainable and effective energy supply tailor-made for your needs".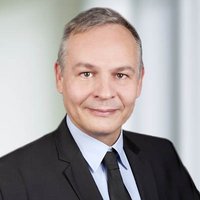 Olaf Schumacher
Head of Sales EfW
Technical data
Fuel
Household Waste, household-type Industrial Waste
Heating Value
min.8.0 MJ/kg
nom.11.3 MJ/kg
max.14.0 MJ/kg
Fuel Throughput each
min.12 t/h
nom.20 t/h
max.22 t/h
Rated Thermal Input each
62.8 MW
Steam Capacity each
67.2 t/h
Feedwater Temperature
130 °C
Flue-Gas Flow each
122,500 m³ i. N./h
Exhaust-Gas Temperature
min.220 °C
max.240
Operating Approval
17. BImSchV
Year of Commissioning
2006 / 2008
Discover more references from the area of combined cycle power plants, from partial components to complex complete plants and operation & maintenance solutions.
More references