The Task
The municipal public utility Stadtwerke Flensburg GmbH has placed an order with Standardkessel Baumgarte for the construction of a heat recovery plant with ancillary trades. It is an integral part of the new combined cycle gas and steam-turbine plant that Stadtwerke Flensburg is constructing in its Flensburg power plant within the scope of the boiler No. 12 modernisation project.
The plant, with a total capacity of 75 MWel and 75 MWth, is to supply the required energy in an environmentally friendly way. The specific CO2 emission decreases by approximately 40% in comparison with existing coal-fired boilers. The boiler plant is used for the generation of hot water for the district heat supply, as well as, of electricity in a cogeneration system for the city of Flensburg.
The Solution
The gas and steam turbine plant consists of a gas turbine with downstream heat recovery boiler, the live steam from which is passed on to a steam turbine. To increase the efficiency the steam is generated at two pressure levels and fed to the steam turbine.
The horizontal design of the heat recovery boiler plant, as well as, special design features additionally meet the extreme demands made on daily start-up and shut-down.
For more information, please see our reference sheet.
"In order to meet the demands of a volatile energy market, we have made it our mission to realise our plants with maximum efficiency and high availability."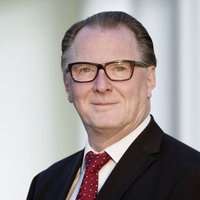 Detlef Simon
Head of Sales and Marketing
Technical data
Energy Source
GT Exhaust Gas
GT-Exhaust Gas Flow
360.000 mn³/h
GT-Exhaust Gas Temperature
550 - 600 °C
Steam Capacity
HP / LP110 / 10 t/h
Steam Temperature
HP / LP525 / 190 °C
Steam Pressure
HP / LP75 / 8.5 bar
Speisewassertemperatur
105 °C
AHK-Abgastemperatur
60 °C
Year of Commissioning
2015
Discover more references from the area of combined cycle power plants, from partial components to complex complete plants and operation & maintenance solutions.
More references