THE TASK
Kraftwerk Plattling GmbH, a subsidiary of E.ON Energy Projects, constructed at the location of the paper mill of the Myllykoski Group in Plattling a CHP power plant as a combined gas and steam turbine plant. The power plant is intended to ensure that the adjoining paper mill is supplied with process steam as well as with electric energy by means of cogeneration. Standardkessel Baumgarte was given the task of constructing the heat recovery boiler for fully automatic and economical continuous operation at high efficiency and availability, with at the same time maximum reliability of the steam supply being achieved.
THE SOLUTION
In order to solve the problem Standardkessel Baumgarte is supplying a heat recovery boiler of horizontal construction. The heat recovery boiler in the power plant in Plattling is operated downstream of a GE 6FA gas turbine with an approx. 60 MW auxiliary firing system and a cooled combustion chamber. At full load, the HRB reaches a steaming capacity of 201 t/h at a steam pressure of 92 bar and a steam temperature of 532 C°. The gas and steam turbines together generate up to 110 MW of electricity, the process steam being taken off at a low stage from the pass-out condensation turbine. Besides the heat recovery boiler, Standardkessel Baumgarte is supplying the associated steelwork, the flue gas duct between the gas turbine and the heat recovery boiler, the silencer and the stack as well as the field instrumentation and the complete burner control system.
For more information, please see our reference sheet.
"In order to meet the demands of a volatile energy market, we have made it our mission to realise our plants with maximum efficiency and high availability."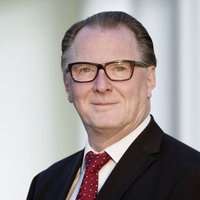 Detlef Simon
Head of Sales and Marketing
Technical Data
Energy Source
GT Exhaust Gas
GT Exhaust Gas Flow
214.5 kg/s
GT Exhaust Gas Temperature
592 °C
Electrical Output GT
77 MW
Rated Thermal Input Aux. Firing
58 MW
Feed Water Temperature
Range80 - 90 °C
Flue Gas Temperature HRSG Exit
110 °C
Discover more references from the area of combined cycle power plants, from partial components to complex complete plants and operation & maintenance solutions.
More References