The Task
GDF SUEZ Saarland GmbH (formerly Electrabel Saarland GmbH) is the site owner/operator of the district heating power station in Saarbrücken. The existing power plants were extended by the addition of a new combined cycle gas and steam turbine plant which was integrated into the existing heat power station as a modernised plant in the meaning of the Act on the Co-generation of Power Heat (KWK-Gesetz). The plant consists of a gas turbine with downstream heat recovery boiler, the live steam of which is fed to a steam turbine for the generation of electricity and district heating water. To increase their own electricity share, within the scope of a complete co-generation of power and heat the extension was implemented during the years 2004/2005.
The Solution
For the new plant a gas turbine from GE, type LM 6000 with a nominal capacity of 47 MW was selected. The waste heat from the gas turbine is utilised in a downstream heat recovery boiler for the generation of high-pressure steam and district heating water. An additional firing system for the fuel natural gas is used in the gas turbine combined operation for increasing the capacity of the steam generation and in the event of GT trip as fresh air firing system for safeguarding the electricity and district heat supplies. The change-over between the two modes of operation GT combined and fresh operation is carried out with regard to steam generation without interruption in a smooth change-over.
For more information, please see our reference sheet.
"In order to meet the demands of a volatile energy market, we have made it our mission to realise our plants with maximum efficiency and high availability."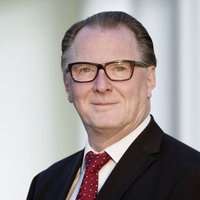 Detlef Simon
Head of Sales and Marketing
Technical data
Energy Source
GT Exhaust Gas
GT-Exhaust Gas Flow
127 kg/s
GT-Exhaust Gas Temperature
454 °C
GT-Electrical Output
42 MW
RTI with Aux. Firing in GT Operation / Fresh Air Operation
56 / 104 MW
Fuel for Auxiliary Firing
Natural Gas
Feed Water Temperature
105 °C
FG Temp. Boiler Outlet
200 / 90 °C
Type of Boiler
Natural Circulation
Year of Commissioning
2005
Discover more references from the area of combined cycle power plants, from partial components to complex complete plants and operation & maintenance solutions.
More references
Burner and burner control