August 2022
After spectacular pictures were shown in January on our construction site in Bremen with the lifting of the boiler, all weld seams could now also prove their tightness after the pressure test.
The new sewage sludge combustion plant in Bremen, for which SBG is supplying the core technology (cranes, sludge reception and transport, drying and vapour condensation, exhaust air treatment, bunker, firing system and boiler) for the customer KENOW GmbH & Co.KG, is scheduled to go into normal operation next year. An important milestone has now been reached for this. After all the pressure part welds for the steam generator incl. Eco were completely welded, all the welds proved their tightness at the required test pressures.
"We are delighted with the successful print test celebration and would like to take this opportunity to thank everyone involved, especially our entire team and of course our customer KENOW, for the cooperative working relationship"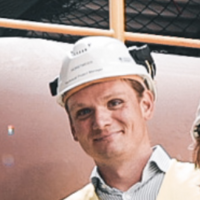 Dr Jan Frederik Horstmeier,
Project Manager SBG
The new MWIP is intended to meet the requirements of the federal legislator to recycle sewage sludge in an environmentally and climate-friendly, safe and economical manner by thermally recycling sewage sludge. The MWIP is being built on the site of Bremen's Industriehäfen district in the immediate vicinity of swb's medium calorific power plant Hafen (MKK).
Outline of the Projekt
Customer
KENOW GmbH & Co.KG
Brennstoff
mechansich entwässerter und solarthermisch getrockneter Klärschlamm
Heating Value (dry)
13,5 MJ/kg
This is what the hydrotest looked like in pictures!
You are looking for current information from the field of plant engineering and energy generation? Would you like to find out about upcoming exhibitions and other dates?