THE TASK
In order to ensure an environmentally, climate-friendly and economical disposal route for municipal sewage sludge from Bremen and the surrounding area, KENOW GmbH & Co. KG planned the construction of a single-line sewage sludge combustion plant with fluidised bed technology. Standardkessel Baumgarte was commissioned with the construction of the mono-sludge combustion plant for the thermal utilisation of the municipal sewage sludge produced. The SSIP will be built on the site of Bremen's Industriehäfen district in the immediate vicinity of swb's Hafen power station. The plant will produce hot steam for electricity generation as well as district heating, which will be fed into the public grid.
THE SOLUTION
The combustion system chosen was the stationary fluidised bed, Raschka system. The sand layer in the fluidised bed furnace is uniformly fluidised by means of combustion air and thus expands to form a fluidised bed approx. 1.5 m high. The pre-dried sewage sludge is fed to the combustor by means of a throw feeder and distributed evenly over the fluidised bed. A boiler system specially developed by Standardkessel Baumgarte for utilising the waste heat from sewage sludge combustion is installed downstream of the fluidised bed furnace. The boiler is designed as a 2-pass natural circulation steam generator in vertical, upright construction with evaporator, super heater and economiser heating surfaces.
For more information, please see our reference sheet.
For more information, please see our reference sheet.
"The interaction of our years of experience and expertise as an EPC provider and Raschka's decades of experience with stationary fluidised bed combustion systems, complement each other to form an ideal partner for the realisation of your plant."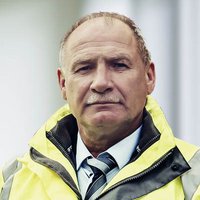 Achim Peter
Head of Sludge Treatment
Technische Daten
Fuel
Mechanically dewatered and solar-dried sewage sludge
Low Heating Value (dry)
Minimal12.3 MJ/kg
Nominal13.5 MJ/kg
Maximal14.3 MJ/kg
Dry Matter
Minimal22.2 %-DS
Nominal23.7 %-DS
Maximal25.7 %-DS
Fuel Flow (dry)
55,000 t(TS)/a
Rated Thermal Input
18.5 MWth
Flue Gas Exhaust Temp.
190 °C
Operating Approval
17.BImSchV
Year of Commissioning
2022
Discover more references from the field of sewage sludge utilisation. From partial components to complex complete plants and operation & maintenance solutions.
More References