The Task
The Standardkessel Baumgarte Group is financing and constructing on the island of Kauai belonging to the US Federal State of Hawaii a biomass-fired power plant with a net capacity of 7.5 MW. The plant will be operated by a joint venture company, Green Energy Team LLC, Hawaii, with the involvement of the former Standardkessel Baumgarte Contracting GmbH (SBC) and the local partner Green Energy Hawaii LLC. The proven grate technology will be supplied by Standardkessel Baumgarte. The biomass-fired power plant is in future to feed electricity into the network of the local grid operator Kauai Island Utility Cooperative (KIUC). With this energy, approx. 8,500 households will be supplied and nearly 11% of the island's energy requirements will be met.
The Solution
To comply with the terms of reference Standardkessel Baumgarte supplied a biomass-firing plant with a pusher-type grate with natural circulation steam generator and a flue gas cleaning plant arranged downstream. The biomass is premixed in the fuel storage area and fed via the fuel conveying equipment to the feeding-in chutes of the biomass-fired plant. The proven firing and boiler conception is designed especially for the combustion of biomass. The generously dimensioned furnace with radiation pass arranged downstream ensures outstanding burn-out of the flue gases. The grate-firing system is supplied with combustion air via separate primary air/secondary air systems. The steam generator removes the combustion heat from the flue gas and produces superheated steam that supplies the steam turbine arranged downstream.
For more information, please see our reference sheet.
"Thanks to our broad product portfolio in the field of biomass firing systems, we can always offer our customers an optimal solution"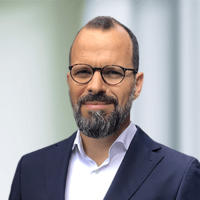 Sebastian Zimmer
Head of Proposals PP
Technical data
Low Heating Value
min.7.0 MJ/kg
nom.10.2 MJ/kg
max.12.3 MJ/kg
Fuel Throughput
nom.81.200 t/a
Rated Thermal Input
27.3 MW
Electrical Power Output
6.7 MW
Feed Water Temperature
143 °C
Rated Flue Gas Volume
max. (excl. Rezi)49,000 m³/h i.N.
Type of Boiler
Natural Circulation
Year of Commissioning
2015
Discover more references from the area of combined cycle power plants, from partial components to complex complete plants and operation & maintenance solutions.
More references
Boiler part before assembly