THE TASK
Evonik is replacing a further power plant in the Marl Chemical Park by a modern gas and steam turbine power plant. Hence the modernisation of the Chemical Park is making further progress. The old power plant has so far been used as a reserve power plant and is now to make way for a modern and flexible gas and steam turbine power plant. Siemens Gas and Power GmbH & Co. KG is, as the general contractor, taking on the planning and construction of the CCGT plant. Standardkessel Baumgarte secured the order for the supply of the steam generator incl. the ancillary trades.
This third line supplements the two high-efficiency CCGT plants that are being constructed by Siemens jointly with Standardkessel Baumgarte in the Marl Chemical Park as a replacement for two coal-fired power plants.
THE SOLUTION
The third CCGT plant will, exactly like the first two plants, generate electricity and steam in the cogeneration process on the basis of natural gas and for that will utilise various residual gases from the chemical production processes at the Marl location. The heat recovery boiler is constructed in horizontal design and suspended in the boiler steelwork. The three burners of the auxiliary firing system are used for the supply of GT exhaust gases and for the additional use of natural gas, LPG, process gas and harbour gas as additional fuels and they are integrated into the boiler front wall.
The new power plant unit will be connected to the existing plants in such a way that, upon failure or standstill of individual power plants, an uninterrupted supply of gas to the chemical park is ensured.
sichergestellt ist.
For more information, please see our reference sheet.
"In order to meet the demands of a volatile energy market, we have made it our mission to realise our plants with maximum efficiency and high availability."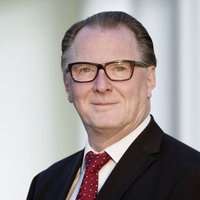 Detlef Simon
Head of Sales and Marketing
Technical Data
Energy Source
GT Exhaust Gas
GT Exhaust Gas Flow
137.2 kg/s
GT Exhaust Gas Temperature
569 °C
Electrical Output GT each
55 MW
Electrical Output ST each
37 MW
Rated Thermal Input Aux. Firing max. each
181 MW
Steam Capacity each
226 t/h
Steam Temperature each
500 °C
Steam Pressure each
80 bar
Feed Water Temperature
85 °C
Flue Gas Temperature HRSG Exit
98 °C
Aux. Fuel
Natural Gas, Production Residues (g)
Boiler Design
Natural Circulation
Discover more references from the area of combined cycle power plants, from partial components to complex complete plants and operation & maintenance solutions.
More References
Birds View Chemical Industrial Park Marl