THE TASK
Together with its joint venture partner MYTILINEOS S.A., Standardkessel Baumgarte is to build a new Energy from Waste plant for a consortium comprising Covanta, Green Investment Group and Biffa, the Protos Energy Recovery Facility near Ellesmere Port, Cheshire, England. By thermally treating 400,000 tons of non-recyclable household, commercial and industrial waste per year, the two lines will each generate 91.4 tph of steam, which will be used to produce 49 MW of electricity. The plant achieves a very high efficiency of over 30%, ranking it among the top EfW plants in Europe.
THE SOLUTION
For the implementation of the task, Standardkessel Baumgarte has decided in favour of an air-cooled pusher-type grate, which has already proven its worth in a large number of executed plants. The cooling of the flue gases, and thus the transfer of the heat into the water-steam cycle, is realized by a natural circulation boiler in 3-pass design with downstream horizontal pass and vertical Economiser pass. Connected to the steam generator is the flue gas cleaning system, which operates according to the dry sorption process on a lime basis and frees the flue gases from dust, heavy metals and the acid constituents. To preheat the feed water, an additional heat exchanger is provided in the flue gas path upstream of the flue gas cleaning system.
For more information, please see our reference sheet.
"We deliver an innovative and specially adapted technology for a sustainable and effective energy supply tailor-made for your needs".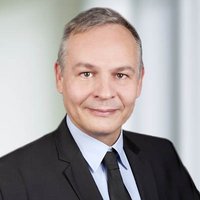 Olaf Schumacher
Head of Sales EfW
Technical Data
Fuel
RDF and Household Waste​
Low Heating Value
Minimal7.0 MJ/kg
Nominal10,5 MJ/kg
Maximal14,0 MJ/kg
Fuel Throughput
Minimal19,0 t/h
25,4 t/h
Maximal33,3 t/h
Rated Thermal Input
74 MW
Feed Water Temperature
115 °C
Flue Gas Flow
142.000 Nm³/h
Flue Gas Temperature Exit
140 °C
Emission Regulation
acc. to BREF
Discover more references from the Energy from Waste sector. From partial components to complex complete plants and operation maintenance solutions.
More References